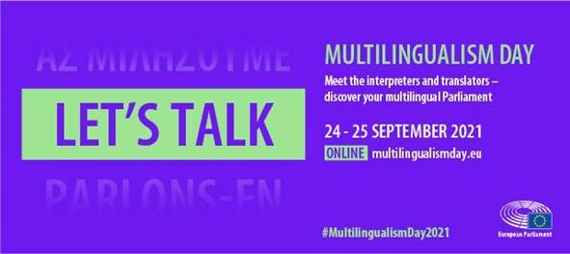 Multilingualism is at the heart of the European Parliament, making it possible for you to follow parliamentary debates in any of the 24 official EU languages. Every year, we celebrate this achievement with a day of special events that shine a spotlight on the interpreting and translation process in the world's most multilingual parliament. This year, a two-day programme of online events will give more people than ever the chance to be part of the European Parliament's Multilingualism Day.
Join us for Multilingualism Day 2021 broadcast live from Brussels to learn about the European Parliament's commitment to languages and to get an insight into the life and work of translators and interpreters.
You can also take part in online workshops and ask your questions directly to the interpreters and translators who make multilingualism a reality.
24-25 September 2021
See what's going on and sign up for online workshops
We hope you can join us for Multilingualism Day 2021!
The European Parliament Visitors Team
Veröffentlicht am

20.09.2021